Connecting to paypal....
Connecting to payment page....
Alex Smoke
London / Experimental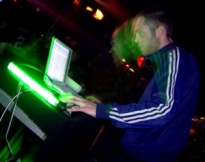 Alex Menzies (aka Alex Smoke) is an exceptional talent to emerge from the Glasgow music scene. At a young age, Alex is already pushing boundaries with his unique approach to electronic and dance music. Classically trained as a musician his arrangements although often experimental show balanced amounts of intelligence and emotion. Since his first release Incommunicado in 2005, Alex gained the critics attention and praise, and continues to capture audiences with his remix works (Depeche Mode, Steve Reich, Junior Boys, Funk D Void, Radio 4, among many ), albums and dj sets around the globe.
Why You
Love Future Loops
REASON # 152
Future Loops sounds are good for your diet : they contain 0 calories but are 100% Phat (polyunsaturated)
Are you amazing ? Join Our
Team
First step , make sure you check all these boxes :
You are a music genius
You are a lean , mean , sound-making machine
You'd rather be dimeless but happy making music than rich but miserable trading bonds
The idea of spending 18 hours a day in your studio sounds dreamy
Your chops are so fresh that the world needs to invent a new genre for you
Second step :
Get in touch here!