Connecting to paypal....
Connecting to payment page....
DJ Quest
San Francisco / Turntablism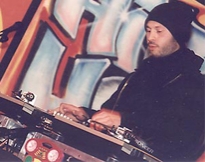 DJ Quest (Questosahn), is considered one of the most skilled and reputable DJ and innovators in the field of turntablism. Born in in El Salvador, Quest moved to San Francisco in the early 80's where he was introduced to the sounds of Hip Hop, and Electro-Funk.
For Quest, this new found culture triggered a life long musical obsession and exceptional interest in scratch music. In the mid 80s, Quest began rocking house parties and in the early 90s took his skills to the stage -DJing for various rap crews and competing in local DJ battles.
Quest is a veteran of the DMC and New Music Seminars Superman battles. In 89, Quest hooked up with another local DJ - Eddie Def and DJ Cue -out of Daly City and created an early version of a DJ band, The Bullet Proof Scratch Hamsters/Space Travelerz. Their biggest contribution came in 1992 with the release of Hamster Breaks Vol. and HB 3.5 (in 96), the first records of its kind arranged specifically for scratch and battle DJs which set off a wild fire-like effect and opened up a new market for battle breaks.
Quest, is also known for coining the term Hamster Style which refers to the reverse set up of the turntables into the mixer. Today the term remains popular and its recognized by DJs world wide. In 96, he expanded his musical horizons by forming the experimental Jazz/Hip-Hop group Livehuman, who went on to self produce recordings for various labels including Matador Records and Hip-Hop Slam. Additionally, his scratch solos have been featured on recordings by artist including Dan The Automator, Blackalicious, Rob Swift (X-ecutioners), Z-man (One Block Radius), TOPR, MC Eddie K, Sacred Hoop and Wide Hide Records.
Quest style on the turntables is an innovative, unpredictable aggressive-funk, distinct and raw. He continues to creatively practice his craft, teaching it and studying it advancing the evolution of scratch music.
Why You
Love Future Loops
REASON # 892
Future Loops is what they call a quarter pounder with cheese in Paris
Are you amazing ? Join Our
Team
First step , make sure you check all these boxes :
You are a music genius
You are a lean , mean , sound-making machine
You'd rather be dimeless but happy making music than rich but miserable trading bonds
The idea of spending 18 hours a day in your studio sounds dreamy
Your chops are so fresh that the world needs to invent a new genre for you
Second step :
Get in touch here!