Connecting to paypal....
Connecting to payment page....
Marcelo Salazar
Brazil / Percussion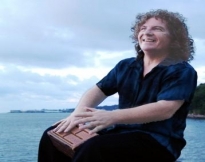 Marcelo Salazar was born in Rio de Janeiro and has been considered one of the top ten percussionists by Downbeat magazine. He specializes in playing instruments that he creates and finding rhythm in everyday objects. Marcelo is also a highly skilled percussionist performing all kinds of traditional instruments like bongos and pandeiro. His work includes 4 solo albums, participation in dozens of compilations throughout he world and collaborations with renowned artists like Al di Meola and Onaje Alan Gumbs.
Why You
Love Future Loops
REASON # 892
Future Loops is what they call a quarter pounder with cheese in Paris
Are you amazing ? Join Our
Team
First step , make sure you check all these boxes :
You are a music genius
You are a lean , mean , sound-making machine
You'd rather be dimeless but happy making music than rich but miserable trading bonds
The idea of spending 18 hours a day in your studio sounds dreamy
Your chops are so fresh that the world needs to invent a new genre for you
Second step :
Get in touch here!