Connecting to paypal....
Connecting to payment page....
Neil Perch Zion Train
UK / Dub & Reggae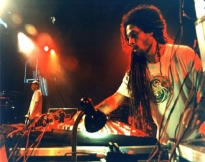 Neil Perch is the founder member of Zion Train Sound system and the owner and administrator of the Universal Egg, Deep Root and Category One record labels. He also owns and runs the Abassi Hi Power sound system and produces the internationally broadcast roots and dub radio show Deep Root. Zion Train are Dub/Dance pioneers and have been undisputed leaders in the genre for more than 15 years. The band are heavily involved in alternative and DIY underground culture and have been since the 90s as well as being purveyors of the finest Roots Reggae music throughout this period .
Why You
Love Future Loops
REASON # 328
Future Loops is 100% renewable : for every sample we release we plant a new sample for the future
Are you amazing ? Join Our
Team
First step , make sure you check all these boxes :
You are a music genius
You are a lean , mean , sound-making machine
You'd rather be dimeless but happy making music than rich but miserable trading bonds
The idea of spending 18 hours a day in your studio sounds dreamy
Your chops are so fresh that the world needs to invent a new genre for you
Second step :
Get in touch here!