Connecting to paypal....
Connecting to payment page....
Slynk
Australia / Funk & Breaks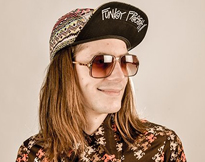 From a young age Slynk has flirted with music production and sound design. With a timeless vibe and unique mash of classic Ghetto , Breaks , Hip Hop and Funk his sound has made him one of the worlds most respected producers and DJs when it comes to all things funky ( he has after all the title of The Funkiest DJ On The Planet ) ! With releases on countless labels (Ghetto Funk, Goodgroove, Jalapeno, Discobrakes, Breakbeat Paradise to name a few...) and live gigs all over the world, expect to see Slynk spreading his magic for years to come!
Why You
Love Future Loops
REASON # 419
We love the smell of loops in the morning
Are you amazing ? Join Our
Team
First step , make sure you check all these boxes :
You are a music genius
You are a lean , mean , sound-making machine
You'd rather be dimeless but happy making music than rich but miserable trading bonds
The idea of spending 18 hours a day in your studio sounds dreamy
Your chops are so fresh that the world needs to invent a new genre for you
Second step :
Get in touch here!