Connecting to paypal....
Connecting to payment page....
Loops Of Fury
London / Electro & Techno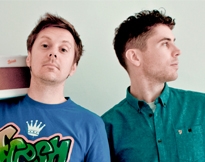 The Loops Of Fury are obsessed with rave. Since their early childhood years listening to bootleg mixes on tape, they have been banging away on drum machines, amassing an army of synthesisers and cheekily (read: artfully) appropriating samples like there is no tomorrow. With support from nearly the entire spectrum of electronic music (say, 2ManyDJs to Erol Alkan to Knife Party to Tiesto, even Jay-Z!), The Loops Of Fury have been dominating the scene since their underground rave anthem I Need blew up in 2011. The original rave-king Moby likes the Loops sound so much he is had them remix for him twice. And in 2012 he teamed with them on a collaboration - a brand new dancefloor destroyer called Para (out early 2013). Remix work has been numerous, having worked their magic for Steve Aoki, Rebecca & Fiona, Sound Of Stereo and Felix Cartal (to name a few). Beatport has been kind, with remixes, tracks and their latest compilation Light Em Up hitting top 10s and staying in the charts for months on end. Not to mention multiple spins on BBC Radio 1s Essential Mix and an appearance on Mixmag cover CD. The Loops DJ shows have been described as fun, crazy, intense and mind blowing (and not necessarily in that order). Playing packed shows worldwide, performing at festivals such as Bestival and Parklife and touring like sleep-deprived madmen, The Loops have been blowing away parties for quite some time now. 2013 sees the launch of their own imprint, Lotus Recordings. The first release is the aforementioned collaboration with Moby, with friends Mumbai Science, Sound Of Stereo and Baskerville on remix duties. Australia and USA tours are scheduled, plenty more music being written and the potential of an album make 2013 a very exciting time for The Loops Of Fury indeed!
Why You
Love Future Loops
REASON # 174
If you glued all our sounds together to make a ladder you could probably reach Saturn
Are you amazing ? Join Our
Team
First step , make sure you check all these boxes :
You are a music genius
You are a lean , mean , sound-making machine
You'd rather be dimeless but happy making music than rich but miserable trading bonds
The idea of spending 18 hours a day in your studio sounds dreamy
Your chops are so fresh that the world needs to invent a new genre for you
Second step :
Get in touch here!