Connecting to paypal....
Connecting to payment page....
Stickybuds
Canada / Funkmaster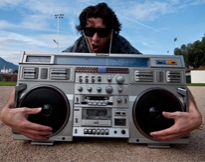 From the funkafied west coast of Canada, Stickybuds has been making his mark on music all over the globe. In the last few years he is found himself performing in 19 different countries, captivating fans wherever he goes. His work ethic and passion have also earned him a residency at Canadas Shambhala music festival (2005 – 2013), as well as performances at Glastonbury (UK), Splore Festival (NZ), Burning Man (USA) and the legendary Space club in Ibiza (ES). With 23 releases on multiple labels, Sticky loves to create and play dance floor friendly music of many different tempos. His sets are filled with Funk, DNB, Glitch Hop, Reggae and Breaks all intricately woven through countless hours in the studio. The end of 2013 will be an exciting one as lots of new music is on the way from the Sticky one. Tours in CA / AU / NZ / UK / US and Europe are also all being planned as you read this. Expect even bigger things to come from the forward thinking and all around nice guy Stickybuds.
Why You
Love Future Loops
REASON # 18
Our sounds were onced used to test the effects music had on the reproduction of Pandas. True Story.
Are you amazing ? Join Our
Team
First step , make sure you check all these boxes :
You are a music genius
You are a lean , mean , sound-making machine
You'd rather be dimeless but happy making music than rich but miserable trading bonds
The idea of spending 18 hours a day in your studio sounds dreamy
Your chops are so fresh that the world needs to invent a new genre for you
Second step :
Get in touch here!